CONNEX Kentucky Launches as Part of Governor's Supply Chain Initiative
Governor Beshear announced the CONNEX Kentucky platform as part of the Supply Kentucky Initiative to help Kentucky Manufacturers Grow Jobs & Reduce Costs
FRANKFORT, Ky. (March 6, 2023)
– Gov. Andy Beshear announced a new "Supply Kentucky" initiative with the goal of boosting job growth, reducing costs and providing more security in the supply chains of our Kentucky companies. (
Full press release from Governor's Office
)
Supply Kentucky started a partnership with the Cabinet for Economic Development and the Kentucky Association of Manufacturers (KAM) to launch CONNEX Kentucky – a new online platform that provides a searchable supply chain database for Kentucky manufacturers. Supply Kentucky will also coordinate marketing efforts, provide resources related to the workforce and connect Kentucky companies to suppliers throughout the country, as well as foster the growth of minority- and female-owned businesses.
"As we grow our state's already incredible manufacturing presence, it is crucial we continue to provide companies in every corner of the state with the resources they need to support new good-paying jobs," Gov. Beshear said. "This new statewide platform fills a critical void in that effort and ensures Kentucky will continue to meet the needs of growing companies. Thank you to the Kentucky Association of Manufacturers for their partnership in making the commonwealth the best place to do business."
On the site, Kentucky manufacturers can register for free to connect with 140,000 manufacturers locally and nationally. The portal is open today for our companies to register and will allow Kentucky companies to search for other Kentucky companies to satisfy their supply chain needs. Having more local suppliers will increase reliability and decrease transportation costs.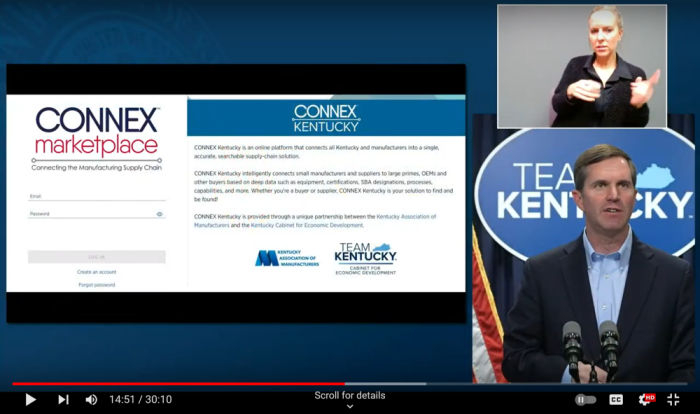 CONNEX Kentucky intelligently connects manufacturers of all sizes, including PRIMES and original equipment manufacturers (OEMs) based on deep data such as equipment, certifications, U.S. Small Business Administration designation designations, processes, capabilities and other criteria.
"Thanks to this important new partnership between the Kentucky Association of Manufacturers and the Kentucky Cabinet for Economic Development, Kentucky's manufacturers and countless other companies will, starting today, have access to one of the best tools in the marketplace to help grow their revenue, strengthen their supply chains and enhance the job security of their employees," said Frank Jemley, president and CEO of KAM. "We are grateful to Gov. Beshear, Secretary Jeff Noel and the great team at the Cabinet for Economic Development for this collaboration that will create new opportunities for the Kentuckians who make world-class products."
The CONNEX Marketplace platform was developed by i5 Services to connect the U.S. manufacturing supply chain. Manufacturers and suppliers are now using it across the country to connect with one another and find new business opportunities.
Manufacturers interested in capitalizing on this new supply chain tool can sign up and get more information at kam.us.com/home/connexkentucky/.
Kentucky is home to more than 5,000 manufacturing facilities that employ approximately 250,000 people. The commonwealth ranks among the leading manufacturing states with 12.5% of its workforce in the industry, compared to 8.1% nationally. In 2022 alone, new-location and expansion manufacturing projects accounted for $8.27 billion in new investments and 8,900 full-time jobs for Kentucky residents.
CONNEX Kentucky furthers recent economic momentum in the commonwealth, as the state builds back stronger from the effects of the pandemic.
Since the beginning of his administration, Gov. Beshear has announced the creation of 43,700 full-time jobs and 838 private-sector new-location and expansion projects totaling $24.7 billion in announced investments.
With the books closed on 2022, the Governor has now secured the best two-year period in state history for economic growth….   See full press release from Governor's Office
###
About Kentucky Association of Manufacturers

The Mission of the Kentucky Association of Manufacturers is to make a better Kentucky by promoting and growing manufacturing in the Commonwealth. https://kam.us.com/
About CONNEX Marketplace by i5 Services
Founded in 2009, CONNEX Marketplace is an online manufacturing platform that connects all U.S. manufacturers & suppliers into a single, accurate, searchable supply-chain solution. It's not just another broker or bid-board platform, but a revolutionary new way for U.S. manufacturers & suppliers to find, be found, connect and do business directly with each other.
For more information, visit www.ConnexMarketplace.com