CONNEX Marketplace Seeks to Ease U.S. Supply Chain Issues Through Upgraded Platform
Salt Lake City, UT – April 13, 2022 – Today, i5 Services announced the release of its newly upgraded CONNEX Marketplace platform which connects manufacturing supply chains to bring more business opportunities to local U.S. suppliers, manufacturers and buyers. The upgraded platform will help solve current supply chain issues by intelligently connecting U.S. manufacturers with new domestic suppliers based on extensive capability data.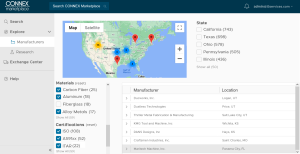 "We are very excited to launch this new version of our platform," said Alan Davis, President and CEO of i5 Services. "For the last 8 years, we've worked hard to develop a comprehensive solution for the U.S. manufacturing supply chain. In doing so, we've listened closely to manufacturers and have sought their input every step of the way- which is exactly why we are launching a new version of the platform. We've incorporated manufacturers input and made it easier for them to be able to search both locally and nationally for qualified suppliers who meet their needs." Davis concluded.
The CONNEX Marketplace technology was developed over 8 years ago by i5 Services to connect the U.S. manufacturing supply chain. It was first used in the state of Utah in conjunction with an economic development project to increase local jobs and revenue by keeping manufacturing locally sourced.
Today, CONNEX is being used by manufacturers and suppliers across the entire nation to connect with each other and find new business opportunities.  It is accessible to all U.S. manufacturers through a partnership with the National Association of Manufacturers (NAM).  It has also been installed in 7 states in partnership with local Manufacturing Extension Partnership organizations in Utah, Florida, Michigan, Oklahoma, Kansas, Missouri and El Paso, Texas. Within those states, the platform is largely free for manufacturers located within those areas.
The new CONNEX Marketplace platform officially launched on March 30th and is open to all U.S. manufacturers, suppliers, OEMs and government buyers.
"We strongly believe that CONNEX Marketplace is the premier U.S. manufacturing supply chain solution," said Alan Davis. "Just recently, a large Wyoming manufacturer, who primarily works in the sporadic oil and gas industry, was able to land a new aerospace contract with Northrop Grumman through the CONNEX platform. The manufacturer uploaded their capability, equipment, certification and other data into CONNEX which then allowed Northrop to quickly search, filter and find them based on that data. Through CONNEX, Northrop was able to quickly find a new qualified domestic supplier and the Wyoming manufacturer was able to find a new contract within an industry that offers greater stability for hundreds of its employees. Similar experiences are happening every week across the country and are validating the power of CONNEX Marketplace to strengthen the great American manufacturing industry," Davis concluded.
For more information, please visit: www.ConnexMarketplace.com
####
About CONNEX Marketplace by i5 Services
Founded in 2009, i5 Services develops solutions to significantly improve complex technical processes among various industries. Our current focus is to connect the U.S. and global manufacturing supply chain into a single platform, which will solve many of the world's supply chain issues. Called CONNEX Marketplace, this online platform connects manufacturers and suppliers into an accurate, searchable supply-chain database allowing primes, OEM's and governments to post their needs and quickly find suppliers based on deep data such as equipment, certifications, capabilities and more. For more information, visit: www.ConnexMarketplace.com